The recent trial of the Do Son land scam at the Hai Phong People's Court has attracted the attention of the populace, especially when the government is making all-out efforts to fight corruption.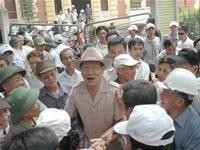 People rush to Hai Phong People's Court for the appeal trial on Oct 9

On August 28, the People's Court of Hai Phong City opened a hearing for a big land scam in Do Son Town in 2005. In this case, some local officials allocated state land in the town to 33 ineligible families, including officials and their families.

The court released a questionable verdict: it warned three defendants, who only had to pay legal costs of VND50,000 (US$3.12).
Chu Minh Tuan, former Director of the Hai Phong Department of Natural Resources and Environment, who was charged with lack of responsibility causing serious consequences, received administrative discipline only.

The trial has stirred discontent among local people and there were rumors that Hai Phong party leaders intervened with the work of the judges.

Prime Minister Nguyen Tan Dung said that as the Party, the State and the people were making efforts to realize the Party Central Committee's resolution on anti-corruption and the Law on anti-corruption, this case must be judged strictly and clearly.

The PM asked the head of the People's Supreme Procuracy and the Presiding Judge of the People's Supreme Court to oversee the appeals of this case and clarify the responsibility of related organizations and individuals.

The PM assigned the Minister of Public Security to re-check the investigation results of the case. He also asked Deputy Minister Truong Vinh Trong to investigate rumors that the Hai Phong People's Committee had deeply intervened in this case. The results of the re-investigation must be made public.

The Supreme People's Court recently announced it will revoke the judgment of the first trial, receiving a wave of support from the public.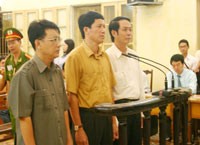 Defendants answer questions at the appeal court on Oct 9
Why does this case interest the public? On Oct 9, thousands of people left their work just to attend the trial, many of whom came form far-away provinces such as Hai Duong, Bac Ninh and Quang Ninh. Some who could not come were eager for the last updates on newspapers, TV, radio and Internet.

In fact, justice is not present everywhere at any time. "Law does not mean justice" have become words of mouth. That has proven a worrying reality: people are losing their confidence in justice!

The second trial was really "hot", sometimes interrupted by the people's objection to defendants' lawyers. It did not come to an end, and people still have to wait.

However, it brought back the light of justice to people who said out loud after the trial: "We believe in the fight against corruption of our Party!"

There are some signs of hope and still worries ahead for those who are responsible for fighting the war.