In early March 2006, the Ho Chi Minh City People's Council and People's Committee talked with city dwellers via Ho Chi Minh City Television about problems the inhabitants are facing in urban management. The monthly TV program is called 'Words and Action' and is on the first Saturday.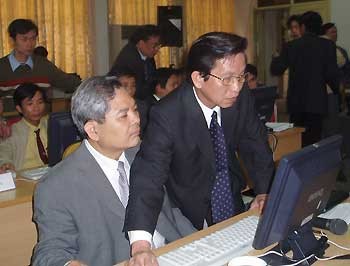 Minister Mai Ai Truc (R) answers the public's questions
On March 16, the Ministry of Natural Resources and Environment's representatives answered online questions from people nationwide about the environment, natural resources, minerals and land. The minister and five deputy ministers sat in front of computers to answer the questions.
Up to 2,500 questions were sent to them that day, and it is likely that the number was higher than that of any other online dialog in Viet Nam so far. Minister Mai Ai Truc asked ministrial officials and experts to answer all questions from the public.
The same happened at the dialog between Ho Chi Minh City leaders and the city dwellers. Forty-five minutes were not enough for Standing Vice Chairman Nguyen Thien Nhan to answer all questions, and he had to answer to individuals after the live broadcast.
Such dialogs between officials and the public drew big attention. It is modern media like Internet and television that enable the public to practice democracy faster and in a widespread manner.
What have these two dialogs demonstrated? The grassroots raised their questions directly to authorities of State agencies, while authorities knew what the people want first-hand answers, not via reports, which might be misrepresented. The biggest gain from the dialogs was that both sides – the grassroots and State agencies – have understood and trusted each other more.
More important is whether the dialogs could lead to action to solve the existing problems faced by the grassroots, or the talks were just a way for them to let the steam off – like in previous ones.
It is expected that from now on, authorities will listen to the people and seek to solve their problems immediately, not just listen then do nothing. Only then, the online dialogs will make sense.