The first referendum bill has been finished and will be introduced to the National Assembly for debate late this year. The bill would govern referendum-related issues.
Under the 1946 Constitution of Viet Nam, the people had the rights to determine matters related to the Constitution and the country's future, and a referendum would be held on the matters if two-thirds of the National Assembly deputies agreed.
The Constitution in 1959 ruled that the National Assembly Standing Committee was in charge of referendum. The Constitution in 1980 assigned the responsibility to the Government. The current Constitution, which took effect in 1990, hands over the responsibility to the National Assembly.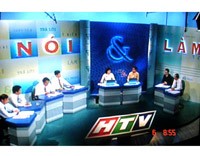 The 'Words and Action' program of Ho Chi Minh Television, in which city leaders talked with the people about problems in the society. It is a way to practice democracy.
However, there has been no referendum law so far, and legislators have to build the law in order to promote the democratization process, favored by the Party and Government.
Prof. Dao Tri Uc, Ph.D, Head of the Research Institute for State and Law, and Deputy Chief of the Referendum Bill Making Board, says the bill will enable the people to practice democracy.
Dr. Uc says, "Every citizen has his or her own foundation in making decisions. In other words, nobody can express the people's desires as exactly as the people do."
The referendum bill says that the National Assembly has the rights to hold a national referendum on such issues as a new Constitution, amendments to the current Constitution, important issues on socio-economic development related to the country's sustainable development, and other important issues set by the National Assembly.
The bill says issues for local referendums include separating or combining geographic units, matters important to socio-economic development of a locality, and other important issues set by a provincial government and approved by the National Assembly Standing Committee.
The bill bans referendums in the context of war declaration, state of emergency nationwide or locally, and within six months after the war or the state of emergency ends.
The bill says the National Assembly, NA deputies, the NA Standing Committee and the State President have the rights to request referendums on constitutional amendments, issues significant to the country's future and important issues of many provinces or regions. The request will be passed if more than half of NA deputies agree.
Dr. Uc says some referendum results will be carried out and some others are only for reference. If for reference, the results need to be highly evaluated, adds he.
Another point being debated in the bill says when the people collect enough supportive signatures, they have the rights to petition for referendums.