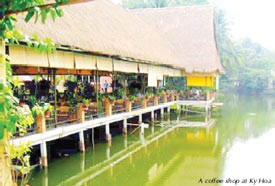 A coffee shop at Ky Hoa.
The Ky Hoa area of HCMC is worth a day to check out. Situated off 3 Thang 2 in District 10 between Cao Thang and Le Hong Phong, there are restaurants, shopping, a park with a children's recreational area, a theater, cinema, hotel, pagoda, cultural center, and the uniquely southern Vietnamese concept of "Garden Coffee".
Dong Ho Restaurant's Ca Phe San Vuon on Cao Thang, known in English as "Garden Coffee" is a must if you visit Ky Hoa. "Garden Coffee" is an expansive outdoor space where there are ponds echoing the sound of frogs croaking, large shady palms and exquisitely landscaped flora, fountains as well as decorative walkways and bridges. Tables are set up in shady spots around the grounds where waiters come over to serve you from a drink menu. Ca Phe San Vuon is a nice destination for blossoming lovers to wile away the anticipatory hours.
In the evenings Cao Thang Street north of 3 Thang 2 is taken over by hundreds of outdoor shops under large tents with a great selection of clothes, shoes, and fashion accessories, among other things. If you speak a little Vietnamese, you can bargain for Vietnamese prices with a fair amount of luck. Even if you aren't looking for anything in particular, a walk down Cao Thang in the evening will prove to be a memorable cultural experience. 
While you are in Ky Hoa, have a meal at one of the many area restaurants, take a break from the heat with a movie at the Cinebox, or let the children play at the park. To quote the much used SE Asian phrase, it's "up to you".