Last Sunday, we went to Thoi Son also called Lan (Kylin) Island. Located in the lower section of the river Tien Giang or Tien, this 1,200 hectare island has been known as a popular eco-tourism since 1990. Today, it welcomes hundreds of tourists and visitors every day.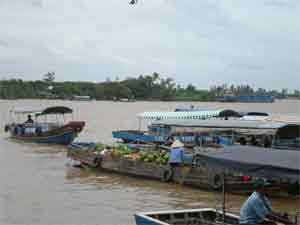 Boats loaded with goods and fruit anchored close together at the Tien riverside
Thai Son is one of a group of rich islands, the others being Long (Dragon), Quy (Tortoise) and Phung (Phoenix). This group is in the Tien Giang Province. Extended by silt deposits, Thoi Son is a fertile island famous for its verdant fruit orchards. Some 6,000 inhabitants live in the island, earning their living by breeding and growing.

From the April 30 wharf in My Tho, we took a 20-minute boat ride on the river Tien to get to Thai Son Island. The cruise, of course, was a terrific journey from the beginning to the end for all of us, who are residents of a big city and who rarely have a chance to enjoy the fresh air and the cool breeze in the open river.

At the wharf, we were attracted to the scene of a bustling riverside where local residents were loading fruits, foods or cargoes on ships anchored very close together. We got into a boat and began our journey. Like other rivers in the South, the water of river Tien was brown with silt. The peaceful river used to be the source of clean and safe water for cooking and drinking for all the people of Tien Giang Province. Now the river is polluted and the residents use it only for washing.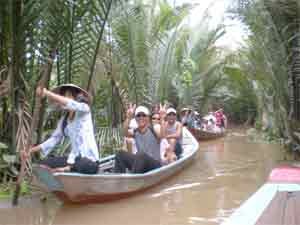 Country girls row visitors to a residential village of the Thai Son Island
Along both sides of the river were modern houses intermixed with iron-sheet houses and thatched cottages. Over our head, the unfinished Rach Mieu bridge gradually came into sight. This is the first suspension bridge built by Vietnamese engineers and workers. When officially put into operation in September, the bridge will link Tien Giang and Ben Tre Province together. Our boat soon sailed under the bridge, on our right was the My Tho Industrial Zone and on our left were houseboats where various kinds of fish were raised in cages built under house bottoms.

Upon arriving at Thoi Son Island, we got into a dug-out canoe sailed by country girls in conical hats and in ba ba, a popular blouse for both men and women in the South, to head to the residential village. By threading its way through small irrigation canals, the canoe went through green rows of nipas and water- peppers before reaching the destination.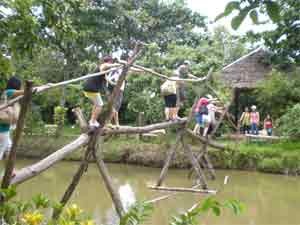 Tourists walk across a "monkey bridge" with a thrill
We went ashore and took a small road through green orchards including jumbo orange trees with limbs hanging low under the burden of countless big, juicy, smooth-skinned fruit to the home of a villager. Since the owner of the house was a bee breeder, he treated us to a special kind of beverage which was a mixture of tea, honey and kumquat juice.

An amateur team of đờn ca tài tử musicians, who play a combination of ancient southern tunes, Binh Dinh classical opera and Hue ceremonial songs, was invited to entertain visitors. How wonderful to sip tea and at the same time enjoy melodious folk tunes in the natural and peaceful context of the countryside. The children were attracted to honeycombs with so many bees swarmed over them. For many, this was the first time they ever saw a honeybee in their life.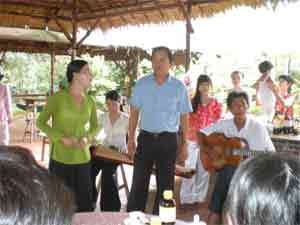 Country girls row visitors to a residential villiage in Thai Sin Island
We left the house of the bee breeder to continue our exploration. We saw a bamboo bridge, called Monkey Bridge, spanning an irrigation canal. "Hey, let's give it a try!" We took turns going across the bridge. "What could be dangerous about crossing a small canal precariously balanced on two bamboo poles? Don't be scared!" we told to ourselves.

We went past souvenir stands and shop selling local traditional handicrafts before dropping in a workshop where coconut candies and coconut- milk rice papers were produced to see how these sweetening items were made. Any with a sweet tooth could buy not only coconut candies and coconut-milk rice papers but also banana candies, which are also a specialty of My Tho. The next stop was another villager's house where we treated to various kinds of fruit grown widely in Tien Giang like longans, grapefruit, bananas, pineapple and papaya.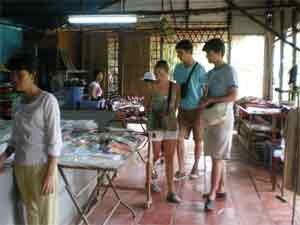 Foreign torurists choose goods at a handicraft shop
The last leg of our journey was the house of a local farmer where we would dry up a ditch to catch fish for our lunch. After a very hard time of soaking ourselves in mud to strenuously catch slippery and struggling fish by hand in vain, we ended up with using trapping baskets and rackets. Otherwise, we would have nothing for our lunch!

We had a hearty meal with grilled snakehead fish and deep-fried Osphronemus gouramy that were "spoils" we had got from our "struggle" with the fish. What a challenge!

After lunch, we got on the boat to go back to Ho Chi Minh City. What a wonderful trip! What a great time of enjoyment we had. We loved the local simple-hearted people who always tried their best to provide a hospitable, warm atmosphere for visitors and really enjoyed the views, fruit, and simple pleasures offered by the countryside.