By climbing the high stone steps to the pinnacle of Titov Island one can enjoy a breathtaking panorama of Ha Long Bay. This is only one of the destinations of the powerful steam engine of the Emeraude Classic Cruise.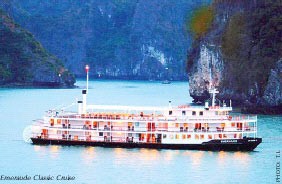 Emeraude Classic Cruise.
The paddle steamer, called the Emeraude and owned by the Roque family, first carried passengers to visit Ha Long Bay in 1910. The 56 meter-long luxury vessel was recently rebuilt and refurbished, which includes three stories, 38 cabins, two bars, and one restaurant meticulously designed to evoke the nostalgic charm of colonial Indochina. 
The paddle steamer visits various destinations around Ha Long Bay. From the sun deck passengers can sprawl out on lounge chairs and enjoy fresh air and the beautiful landscape of Ha Long Bay. After sunset, passengers are treated to dinner at the restaurant with delicious freshly caught local seafood along with other regional specialties.
The Emeraude is now used for regular service in Ha Long Bay. To book a two-day cruise package for US $290 per person, contact Emeraude Classic Cruise for more information or E-mail: sales@emeraude-cruises.com