A trip to Chau Doc is not complete without a riverboat excursion to explore the amazing floating farmhouses along the mighty Mekong River. Here you will learn more about the interesting way of life for those who reside in the Mekong Delta.
A survey in 2005 showed that there were approximately 3,000 floating farmhouses in Viet Nam. These houses are mainly concentrated in the An Giang Province, around Chau Doc and Tan Chau; towns close to the Cambodian border. This concentration of houses is a result of downstream migration of the fish farmers.
The 'Fish Cage' industry began in Cambodia in the early 1970's. However, by the late 1970's, the national repression by the Pol Pot led regime caused many families to leave the country. Most of the fish farmers, mainly Vietnamese families, took refuge in Viet Nam. Here, they set up and developed cage production as close as possible to the border in order to capitalize on the favourable aquatic environment, while  residing in a country with a stable political situation.
Pangasius hypophthalmus is the most popular species reared in floating cages, representing 80% of the fish production in the Mekong Delta. In the past, people spent time gathering fish eggs from the wild and raising them for food. Nowadays, artificial reproduction methods have enabled farmers to buy the fish larvae from a hatchery and then raise the fish to a marketable size of approximately one kilogram.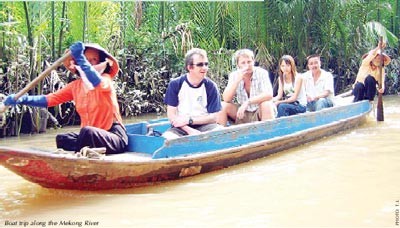 Boat trip along the Mekong River.
The present-day cage measurement in Chau Doc is typically 25m long x 9m wide x 6m deep. Made of precious wood, at a cost of approximately US $6,000, each cage can accommodate roughly 20,000 young fish and produce up to 100 tons of adult fish in each 8-month production cycle. The fish are fed on a dough prepared by the farmers that consists of cereal, vegetables and fish scraps. When being harvested, the live fish are transported to processing factories at Long Xuyen. From here, they make their way into the international markets in the form of frozen white fish fillets.
In Chau Doc, boat trips to these floating farmhouses can be made from the river dock near the central market. It's about a 20-minute boat ride to reach one of the floating farmhouses along the Mekong River. Tourists receive a warm welcome by the host family of Mr. Ut Lit; a middle-aged man who was born in Cambodia and came back to Viet Nam with his family in 1985. He was taught how to farm fish by his parents and has now passed these skills down to his children. He owns several large fish cages along the river and is happy to talk to tourists about his life and his fish cage business. His floating farmhouses receive many tourists due to his friendly and hospitable demeanour.