A collection of twenty paintings entitled "Lotus Ponds" by Japanese artist Kato Shojiro is on displayed at a two-week exhibition organized at Tu Do Gallery in District 1.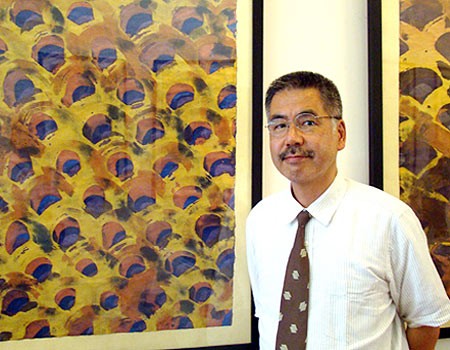 Artist Kato Shojiro and one of his paintings of "Lotus Ponds"
This is the third time Shojiro has display his works in the city. He displayed his works at the Ho Chi Minh City Art Museum in 1994 and 1995. Talking about the source of inspiration for his paintings of lotus ponds, Shojiro said, "One day in Japan when I visited the gallery of Le Thanh Thu, a renowned Vietnamese painter, I saw a picture depicting lotuses and I couldn't help crying. It 's the strange obsession with Thu's painting that has inspired my paintings of lotus ponds, I can say."

Shojiro said the lotuses in his paintings do not look like those in real life. What he expressed in his works are images of lotus ponds in mind. He said, "I hope that each admirer will have a different feeling and experience when viewing my works."

In fact, if one does not know about the theme of the exhibition, he may thing think that Shojiro is an artist of the abstract school. Each work is a copy of another, but painted in a different range of colors. The artist has used natural materials like Chinese ink (black), shell powder (white), mineral powder (blue and green), vermillion, mercury compounds (red), gold, silver and gems for his paintings. Due to the limitation in natural materials, the attraction of Shojiro's paintings does not come from the variety in colors, but from their layouts.
Shojiro was born in Tokyo in 1954. He graduated from School of Tama Art University in Tokyo in 1978 and then got a master's degree in Japanese–style painting. He won many prizes, including the New Artist Prize at the Asian Modern Art Exhibition of 1989, the Artist Friendship Association and the Asia Prize of the Asian Modern Art Exhibition of 1990, the Grand Prize in the Asian Modern Art Exhibition of 1994, the Yasusa Art Foundation Prize in the Asian Modern Art Exhibition of 1996 and the Grand Prize in the Japan-Seiko Art Exhibition of 2001.

The painter has participated in nearly sixty solo and joint exhibitions in Japan, China, Viet Nam, the U.S., South Korea, and Thailand.

The exhibition will last until August 9. To Do Gallery is at 53 Ho Tung Mau Street in District 1.