The Mekong Delta is well-known for being the 'Granary of Viet Nam', accounting for nearly half of the country's rice production. Primarily formed by sediment deposited by the Mekong River, the longest river in Southeast Asia, it is also home to most fruit trees in Viet Nam and is a fascinating area to visit.
Riverboat cruises along the Mekong River visit nearby islands and villages and are offered on both overnight trips and day excursions to the Mekong Delta. An in-depth exploration of the Mekong Delta enables visitors to enjoy and gain insight into the land, food, and people who live there.
My Tho – Elephant-Ear Fish
My Tho, just a 2-hour drive from HCMC, is a popular day-trip destination. Famous for tropical fruit orchards and sampan rides along the intricate waterways of the delta, My Tho is renowned for the delta's main delicacy, deep-fried Elephant-Ear fish. This fresh water fish has few bones and a succulent white flesh. It is deep-fried until the fish turns a copper color and the scales become very crispy. It is usually served with a colorful array of vegetables, rice paper sheets and fish sauce.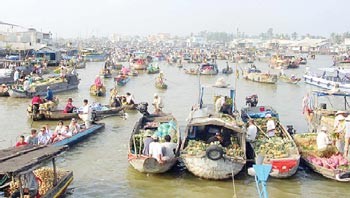 Floating Market in Mekong Delta.
Vinh Long – Home stay Accommodation
Vinh Long, 140 km west of HCMC, is a riverside town located in the Mekong Delta. A boat ride along the Mekong River to the neighboring islands includes a visit to a most beautiful bonsai garden and an opportunity to enjoy a musical performance that is typical of the region. Spending a night in a farmer's house is a good idea for those who like peace and isolation. The houses are built on stilts above the river in the traditional Mekong Delta style. Language may be a little bit of a barrier. However, it is certainly an unforgettable experience and gives tourists a unique insight into the daily lives of the local people.
Can Tho and the Floating Market
Can Tho, 180 km west of HCMC, is the region's center of economics and transportation, thus forming the heart of the Mekong Delta. All waterways lead to Can Tho and therefore it is a major destination for travellers.  One of the favorite attractions here is the Cai Rang floating market. Boats of all kinds, laden with an exotic bounty of farm and garden produce, pull up at sunrise and jostle for space in order to sell their wares. The floating market provides ample photo opportunities for travellers and photographers alike.
Chau Doc and the Floating Farmhouses
Chau Doc, 285 km west of HCMC, deep in the Mekong Delta and close to the Cambodian border, is a small but busy riverside town. The sizable Chinese, Cham, and Khmer communities have long built distinctive temples and pagodas here that are well worth a visit. Explore the amazing floating farmhouses along the river to learn the fascinating techniques behind these unique catfish hatcheries.