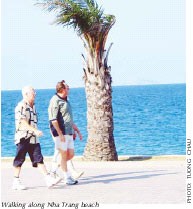 Walking along Nha Trang beach. (Photo: T.C)
Khanh Hoa Authority has announced that Nha Trang City is set to host the annual Beach Festival for 2007. The festival has been running since 2005 and will take place again on April 28.
Nha Trang, one of the world's most beautiful bays, is expected to attract an increased number of tourists by holding the event. At present, there are plans to decorate the city by planting flowers and placing lanterns around the beach.
A seminar highlighting issues about the sustainability of Nha Trang bay will take place along side a mixture of other activities during the weeklong festival.