Residents in city will have a chance to meet their interest in classical music in a special three-night concert over August 15-17 at the Conservatory of Ho Chi Minh City in District 3.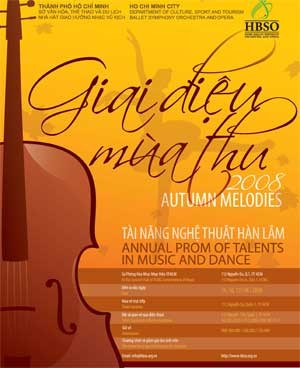 The three-night concert entitled 2008 Autumn Melodies will start over August 15-17
The first day will remind audiences of some Vietnamese old music, including some immortal rhythms "Return to Motherland" composed for strings and piano by Composer Nguyen Van Thuong and "The Voice of Love" composed by Vo Dang Tin
 
Moreover, for those who love classical international songs will be able to satisfy their interest in variation of melodies extracted from famous works of J. Offenbach ("The Doll Song" for Opera and "Tales of Hoffmann"), Johannes Brahms (Concerto for Violin and Orchestra in A Minor, mov. II, III, op.102), Ludwig van Beethoven (Concert for Piano and Orchestra No.3 in C Minor, mov. II, III), K. Stamitz, and F. Mendelssohn.
 
The opening of day two will turn back time to when the melodies of Robert Schumann, Johann Pachelbel – Robert Prizeman, Johann Sebastian Bach, Edvard Grieg and Ward Swingle played on the streets. Open the lights and listen to some old songs like Sonata for Violin and Piano in A minor, op.105 or close your eyes to enjoy the "Sanctus" based on Canon in D, or even dream of a chance to listen to the music "Ave Maris Stella" from a classic gramophone.
 
The last part in this day will be the seven ballet performances, namely "Scent of Love", "Me", "The Flower Festival at Genzano", "My Eyes", "Peacock from Unknown Skies", "Twin", and "Team of three".    
 
Day three will bring you to a beautiful place where only peaceful music plays on, starting with Concerto for Piano and Orchestra No. 2 in G minor, op.22 Mov.1 by Camille Saint-Saëns, following by the Concerto for Contrabass and Orchestra No.2 in B minor by Giovanni Bottesini and ending with Concerto for Cello and Orchestra in B minor, op.104, mov.1 by Antonín Leopold Dvořák.
 
Probably you won't want to miss an opportunity to get emotional with variation of Vietnamese classical music in the second part, including "Praying" for Strings and Percussion Instruments composed by Vu Viet Anh and "The Song of Hope" composed by Van Ky.
 
Ticket are sold for VND300,000 (US$17), VND200,000 (US$12) and VND150,000 (US$9).
 
Tickets are available 
- The HCMC Ballet Symphony Orchestra and Opera, 212 Nguyen Trai Street, District 1.
  Tel: 925 2265/ 832 2009
- The Conservatory of HCMC, 122 Nguyen Du Street, District 1.