The Viet Nam Tourism Association (VITA) has embarked on a new phase in hospitality management with the adoption of Comanche International's software package as the sole monitoring system for all aspects of the hospitality sector in the country.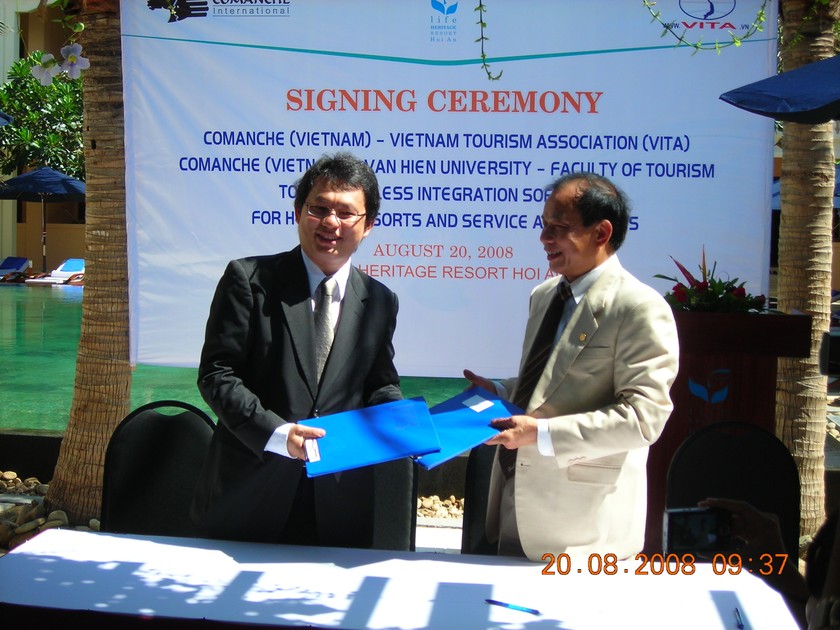 Mr. Somboon Sukheviriya (L), president of Comanche International and Mr. Nguyen Phu Duc, VITA chairman at the ceremony

VITA signed a MoU to this effect with the Thai software company on August 20 in the World Heritage city of Hoi An. The signing ceremony was hosted by Life Resort Hoi An, which is one of Comanche's 450 clients worldwide.

VITA chairman Mr. Nguyen Phu Duc who signed the MoU, said this "total seamless integration software" will greatly help in facilitating and expediting processes and procedures, especially at big hotels and resorts in addition to cutting costs.
Comanche International also signed another MoU with Ho Chi Minh City's Van Hien University under which the university will start teaching Comanche software to hospitality students soon.
Comanche's software package has been in use by the hospitality industry for more than 12 years, being programmed by some of the best IT experts in the business. The Thai firm's Front Office Management System, which is fully integrated to Back Office, is one of several systems currently being used by big companies from 14 countries.
Comanche has set up office in Viet Nam not only to do business but also to play a part in helping improve the country's tourism industry, which has huge potential, Mr. Lam Duong An, the company's Chief Representative, told Sai Gon Guide.