Sixteen innovative ideas were awarded with almost VND8.5 billion (US$ 413,000) at Vietnam Innovation Day 2011 under the theme "Innovation for Social Equity and Sustainable Growth".

The organizers selected 36 finalists from 332 entries based on three themes: energy efficiency, traditional herbal medicine and agriculture based products and services.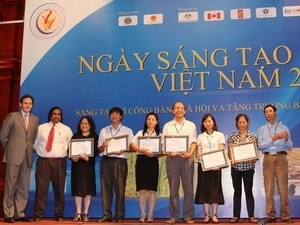 Winners at the ceremony (Photo: VietnamPlus)
The winning ideas will be applied to bring practical benefits to the people. Each idea will be supported by a maximum of VND630 million. 

The event aims to seek innovations in acquiring, adopting, creating and using new technologies, processes and products that would reduce wastage of energy and promote alternative low-carbon energy sources; initiatives that tap Vietnam's great potential in enhancing scientific and clinical research to allow traditional herbal medicine products to be brought into the market and improve access to related services and agricultural products and services by improving farmers' links with the domestic food market and export distribution chain.

For instance, "Turning waste into fuel" project was a winning entry of a new efficient, environmentally friendly solution from the Center of Scientific Research and Technology of Tay Bac University.

Deepak Mishra, WB chief economic expert said the participation of the community and the program reflected the strong commitment of the people, Government and donors using creativity to improve living conditions of Vietnamese poor and those who do not enjoy access to public services.

The Ministry of Planning and Investment and the World Bank jointly launched Vietnam Innovation Day 2011.  Its co-sponsors are Australian Agency for International Development, Department for International Development (U.K.), the Royal Embassy of Denmark, the Embassy of Finland and the U.S. Agency for International Development.