Following a radioactive leak at an oilrig off southern Viet Nam's Vung Tau City on December 28, 173 workers were yesterday found to manifest signs of contamination including 28 who vomited, suffered from headaches and difficult breathing.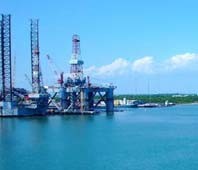 An oilrig (for illustration purposes only)
The 173 were hospitalized and later sent to the Da Lat Institute of Nuclear Research in central highlands Lam Dong Province for further examinations.
At 2:30 pm, experts from Alpha Company Limited which is being contracted to use radiographic equipment to check for cracks and welding deterioration at the Bunga Orkid D (BOD) oilrig off Ha Luu Port found a radioactive device missing. This bar-shaped device containing radioactive material is used to inspect the rig's welding joints.
Immediately, over 400 people working within a radius of over 1km were evacuated. It was suspected that a group of technicians from Alpha had accidentally dropped the radioactive source at roughly 11:40 am about 20 meters away from the rig.
Since the device was dropped on the ground, it was easily located and retrieved after 3 hours.
The oilrig is owned by M&C Petroleum Technical Services Company.
Ho Minh Dan, Ba Ria Vung Tau provincial police chief told Sai Gon Giai Phong that there are no signs of sabotage.
Alpha had a similar problem at Hyundai-Vinashin Shipyard Ltd. in central Khanh Hoa province in 2002.
Viet Nam is upgrading security systems of its radioactive sources. The country currently houses 188 industrial and healthcare establishments having a total 1,961 radioactive sources.
Viet Nam which boasts a sole nuclear reactor in Lam Dong province plans to build its first nuclear power plant between 2015 and 2020.