Over 400 workers at an oilrig off southern Viet Nam's Vung Tau City were evacuated yesterday after a radioactive source was lost.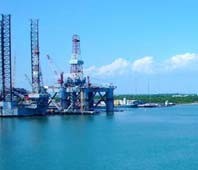 An oilrig (for illustration purposes only)
At 2:30 pm, experts from Alpha Company Limited which is being contracted to use radiographic equipment to check for cracks and welding deterioration at the Bunga Orkid D (BOD) oilrig off Ha Luu Port found a radioactive source missing.
This radioactive bar is used to inspect the rig's welding joints.
Immediately, over 400 workers were evacuated. It was suspected that a worker from the M&C Petroleum Technical Services Company - the oilrig owner – had accidentally dropped the radioactive source at roughly 11:40 am the same day.
It took over 3 hours to locate and retrieve the misplaced radioactive source.
The site is being cordoned off and all workers examined for contamination.
Anpha had a similar problem at Hyundai-Vinashin Shipyard Ltd. in central Khanh Hoa province in 2002.
Viet Nam is upgrading security for its radioactive sources. It is housing 188 industrial and healthcare establishments having a total 1,961 radioactive sources.
It currently has one nuclear reactor in central highlands Lam Dong province and plans to build its first nuclear power plant between 2015 and 2020.