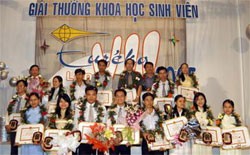 In the prize-awarding ceremony (TT)
The central Communist Youth Union, in cooperation with the Ho Chi Minh City National University, held the prize-awarding ceremony for the 7th student scientific researchers "Euréka 2005" at the Youth Cultural House.
The contest attracted 398 projects by 878 students of 23 university and colleges in Ho Chi Minh City in many fields: Natural, Technological, Social, Economic, Legal, Agricultural, Forestry, Fishery, Medical, Pharmaceutical, Dental Science and Environmental Resources. Finally, there were 97 winners of the prestigious prize.