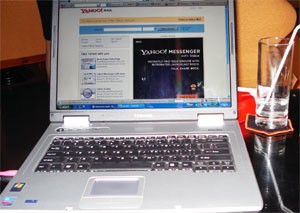 Internet users can now enjoy wireless satellite access (Photo: Hoang Uy)
A new internet service is now available in Viet Nam which allows users to receive broadband access to the internet anywhere, anytime, without being tied to a physical connection.

The new service comes in the form of a small satellite terminal which accesses the internet via the Broadband Global Area Network (BGAN).
The Norway-based communications, IT and media company Telenor and their partner Immarsat, have cooperated with the Vietnam Maritime Communication and Electronics Company to be the first BGAN service provider in Viet Nam.
Weighing just one kilogram and not much bigger than a laptop, the satellite terminal slips neatly into a carry bag. Connecting their laptop with the terminal, users will be able to receive a broadband connection of up to 512kps.
 
At a press briefing in Ha Noi, Rodolfo Ramizer, Regional Manager for Telenor, said that his company's partner Immarsat have launched two commercial communication satellites with third planned for the end of this year.
He also added that there are currently about 2,000 satellite terminals around the world. Based on the rapid growth rate of tele-communication in Asia, Telenor believed that they can sell more than 1,000 terminals in this region.
Viet Nam is one of the ten key markets of Telenor in Asia. 100 satellite terminals are expected to be sold this year. The company intends to provide other hi-tech services such as satellite mobile phones to Viet Nam in the near future.