The latest fad amongst young Vietnamese people these days is to flaunt an attractive mobile phone with high tech software and applications, however costly it may be.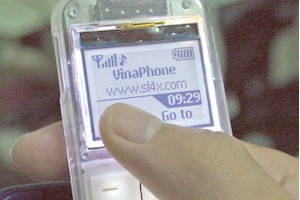 An upgraded Nokia 1202 with touch screen (Photo: Phu Tien)
Vietnamese tech experts can now upgrade, add or remove any software or application in a cell phone, besides also changing its outer look, making it exclusive for the owner.  
The outward appearance of a mobile phone is now becoming an obsession amongst young Vietnamese.
The outward look of mobile phones is designed as per customer demand, from changing the exterior cover to adding 'LED' lighting. For a price, many interesting changes can be made to even the simplest mobile phone.
According to Huynh Duy Tan, an old hand in changing mobile phone exteriors, the demand for changing the outer look of a phone is by far the highest and very lucrative for people like Tan who are in this business.
Wood coverings of various styles first arrived in the market four years ago. By late 2009 the fad for mica covering, imported from Taiwan, caught on, even though it was quite expensive at VND700,000 (US$33.6).
A mobile phone keyboard can also be changed, from simple to ultra exotic. One embedded with silver plated stones is anything between VND500, 000 to one million while that with gold plated stones could cost about VND two million.
The added feature of 'LED' lights is also very popular. Many mobile phone shops in Ho Chi Minh City are able to add 8 to 14 'LED' lights in a mobile phone, with the cost being VND20, 000-25, 000 for a normal 'LED' light while that with a chip set would cost approximately VND35, 000.
The most popular mobile phone model for adapting to added changes is the Nokia 1202. The price of a Nokia 1202 is roughly VND330, 000, but after upgrading the price shoots up per feature.  
Many youngsters today also apply their own products to their phones. 26-year-old Huynh Phu Tien is remarkably adept in software technology and has added many unique and distinctive features on his phone.
Even though he is well versed in information technology, he chose to become a mobile- phone technician. His job exposes him to all makes of mobile phones. 
Tien has many achievements to his credit. The most remarkable being that of rolling out seven versions of the Nokia 1202 model with 'LED' lights along the phone edges with touch screen on each.