Two conferences, Banking Viet Nam and Security World 2008, will take place at the New World Hotel in Ho Chi Minh City from December 1st to 3rd, the organizers have announced.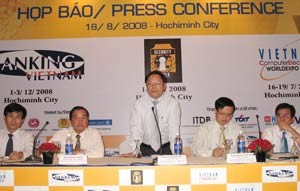 The organizers of the Banking Viet Nam and Security World conferences introduce the events on August 18 (Photo: Tuong Thuy)
The ninth annual Banking Viet Nam conference and exhibition will provide the banking sector an opportunity to gain access to latest information technology, said the organizers, which are the Department for Banking Information Technology of the State Bank of Viet Nam and the International Data Group (IDG) Viet Nam.
IDG Viet Nam is also one of the two organizers of Security World – the other organizer is the Ministry of Public Security's General Department of Technology.
Mr. Ta Quang Tien, chief of Department for Banking Information Technology, told an August 18 press meeting that Banking Viet Nam had proved to be an effective forum for new technologies and trends of IT development and application in the banking industry.
The topic of this year's Banking Viet Nam is "Modern Banking Technology for Administration, Monetary Business, and Credit". Along with an exhibition of technologies and products, experts from banks and IT companies will discuss and share experiences in IT application to modernize banking services.
Meanwhile, the main purpose of the Security World conference is to enhance awareness of enterprises of security issues and their investment in security solutions for sustainable business.
With the theme of "Information Security Strategy for Sustainable Business Operations", the event will focus exclusively on businesses.
Mr. Nguyen Viet The, chief of the General Department of Technology of the Ministry of Public Security, told the press meeting that computer security and cyber security was always a hot issue for any organization in the modern time. "Enterprises should pay much more attention to business information and data security," he said.
He said Security World 2008 would focus on demand for security of enterprises, security threats to enterprises, security strategies for them, risk management, and latest security technology and solutions.
As scheduled, the Security World conference will take place on December 3. The Security World 2008 showcase will be held on December 2-3, and feature technologies, solutions, software, and equipment for network security, anti-virus, spyware, hacking.