Government agencies, the SIDA of Sweden and the Viet Nam Blind Association (VBA) are working to seek ways to help blind people gain access to information technology to improve their living conditions.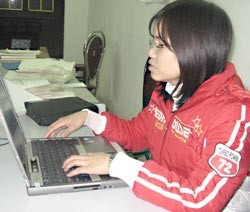 Viet Anh, a blind girl in Ha Tay, is using her laptop
At a symposium in Ha Noi on August 6, vice president of the Viet Nam Blind Association, Nguyen Xuan Huong, said his association has annually helped 100-150 members learn IT and its applications since it launched a related program in 2004.
However, Huong said there were more than 90 percent of 600,000 blind people in the country that have never had access to computers and cannot tell the difference between software and hardware.
He said that IT centers for blind people were found in only 12 out of the country's 64 provinces and cities with some running software programs that were unusable.
Participants proposed concerned agencies to develop IT training methods appropriate to blind people to enable them to have useful skills supporting their work and life.