Consumers should be extremely wary of buying discounted software or downloading free software from certain dubious Internet sites, warned a report released recently by the Business Software Alliance (BSA), an international organization dedicated to promoting a safe and legal digital world.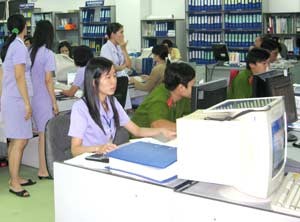 Vietnamese inspectors check out unlicensed software programs used for computers at Japanese company Muto in Dong Nai Province on Nov. 26, in a bid to protect intellectual property rights (Photo: Hoa Pham)
The report, entitled "Online Software Scams: A Threat to Your Personal Security", describes the growing scope of the Internet piracy problem, the links to identity theft and other forms of cyber crime, and the steps that are needed to reduce Internet-based piracy.
The report wrote, "Although consumers may think they are getting a great deal when they buy software from unfamiliar sources online, it is more likely they will receive a substandard product with hidden cyber security threats that may expose them to identity theft and the loss of thousands of dollars."
The report also focused special attention on the problem of pirated software being sold on auction sites such as eBay, where an estimated 50 to 90 percent of software products are either illegally obtained or pirated copies. Often these copies have been knowingly altered with malicious code or malware.
Tarun Sawney, BSA's director of anti piracy for Asia, noted in a BSA announcement dated Nov. 27, "The ever increasing growth of broadband in Asia has led to an escalation in illegal downloading of software via peer-to-peer."
The report said that in Asia, 59 percent of all software found on desktop personal computers in 2007 were obtained illegally, with losses amounting to over US$14 billion. A separate 2008 study found that reducing software piracy in Asia by just 10 percentage points over a four year period could generate 435,000 new jobs, over US$40 billion in economic growth, and over US$5 billion in tax revenues.
It also provided consumer tips, including buying from legitimate sources; taking advantage of free software updates from the original publishers; being wary of products that don't look genuine; and reporting suspected software fraud at www.bsacybersafety.com.
The report can be downloaded at www.bsa.org/internetreport.