The Agriculture Center in the southern province of Dong Nai is successfully experimenting with the bud transplant method which rejuvenates old coffee plants within a short span of two years and also increases productivity.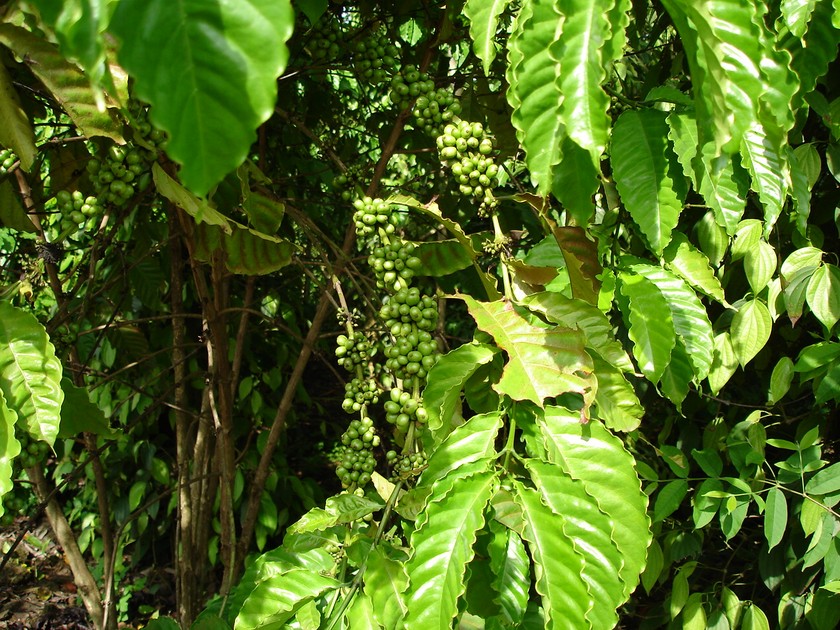 Using the new bud transplant method, coffee growers can increase yield to  5-6 tons per hectare(Photo: Ng. Anh)
Despite an 18,000 hectare coffee growing area, one third of which comes under Cam My District, the southern province of Dong Nai is still unable to reap profits as most of the coffee plants are now old and therefore unproductive.
Tran Viet Cuong, Head of the Cam My Agriculture Sector, has devised a plan to replace old coffee plants with younger, healthier and more productive ones by using the bud transplant method, which is being whole-heartedly embraced by local authorities.
Cuong believes that destroying old plants and growing new ones could take around six years, while with this new method it will take only two years to harvest the first crop.
Dinh Viet Han from Xuan Tay Commune in Cam My District, the first farmer to adopt this new method, said initially he applied the technique to only a 3000 square meter area on 300 coffee plants. Within 2 years, these TR4 and TR9 bud transplanted trees are ready for a first harvest.
Han commented that this method greatly reduced farmers' expenses, requiring mostly nitrates and NPK fertilizers, lessened nurturing time and produced results sooner than the traditional method.

Moreover, transplanted trees grew much faster, giving an abundance of big-sized coffee beans, thus increasing yield. After three years of using this method, each of his coffee plants produces 1-1.5 kilograms of rich coffee beans. Han is now eager to transplant all his remaining coffee plants.
However, in the 1,200-hectare coffee growing area of the commune, the average output is 1.7-2 tons per hectare and so far only 100 hectares has been transplanted, said Nguyen Duc Thom, Chairman of the Xuan Tay Commune Farmers' Union.
Statistics show that the yield from the TR4 type grown in the highland province of Lam Dong is 6 tons per hectare.
Therefore, the expected yield should be 4.5-5 tons per hectare in the Xuan Tay Commune, far higher than the current yield from the old coffee plants.