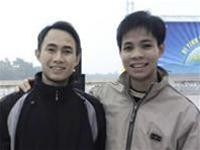 Nguyen Trung Thanh (R) and Nguyen Duc Thien
Blind people in Viet Nam are welcoming the announcement of a software dubbed "Voice Message", which enables mobile phones to verbally report incoming messages and telephone numbers.
The high-profile software was developed by Bui Quang Trung of the Institute of Informatics (IOI) and two students, Nguyen Duc Thien and Nguyen Trung Thanh from the Military Technology Academy (MTA).
In July 2005, Duc and Thien were working part-time on a small science project aimed at converting text-messages into an audible format by changing the message's frequency.
Later on though, under the guidance of Luong Chi Mai, vice director of the IOI and Duong Tu Cuong, a lecturer at the MTA, their project became a crucial component of a larger undertaking known as "Vietnamese recognizing and synthesizing technology for mobile phones".
In July of this year, when Bui Quang Trung joined Duc and Thien on the project, the three decided to call themselves "The Mobile Speech Team" and the project itself, "Voice Message – Mobile Phone Message Speaking Software".
The software has now been tested (in Nguyen Trung Thanh's cell phone) and it proved to run smoothly. The task ahead now involves teaming up with the IOI to further develop the software's features.
Cell phones incorporating the new technology are scheduled to be in stores by early next year.