Cisco Systems Vietnam has signed a cooperation agreement with the People's Committee of Vinh Phuc to develop the technical infrastructure for information computing technology in the southern province.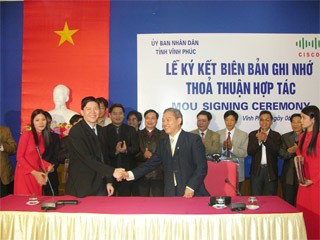 Vice chairman Hoang Truong Ky (Front, R) and Mr. James Chia are at the signing ceremony (Photo:D.Quang)
Cisco's job is to complete Vinh Phuc's digital transformation by utilizing Cisco's Connected Government technology along with economic analysis and models showing the financial benefits of implementing Cisco technologies, in all cases as considered appropriate by Cisco.
The two parties will jointly evaluate Vinh Phuc's core network and IT operation platforms with a view to technology enhancement and infrastructure improvement.
They will also hold workshops on the relevant Cisco technology like Connected Government, Network System Management, Network Security and Network Systems Design.
Speaking at the signing ceremony, People's Committee vice chairman Hoang Truong Ky thanked Mr. James Chia, the general director for Cisco's Vietnam operations, and said he was happy to cooperate with an international organization like Cisco.