The Vietnamese hi-tech market has of late been inundated with a flood of counterfeit 'Apple' products, the most established global name in the electronics business.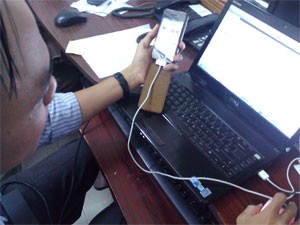 An technician activates a new iphone 4G at a HCMC-based electrical appliance store (Photo: Tuan Anh)
Consumers in Ho Chi Minh City are being lured by unauthorized 'Apple' product retail resellers, when buying replacement parts for their original gadgets.

Bao, a consumer from Tan Phu District of Ho Chi Minh City, spent VND700, 000 (US$33.7) on a new cover for his Apple 3G iPhone in a shop stating "Authorised Reseller". He was assured that it was of the best quality, only to crack within a few weeks.

Phuong from Phu Nhuan District bought a set of headphones for her Apple iPhone 4 at VND600, 000 at the PLStore, a newly opened shop claiming "Authorised Reseller" in Phu Nhuan District.

The quality of the new headset was clearly not of the same good quality as the original, Phuong said.

An accessory wholesaler for Apple products revealed that most of the shops in Vietnam, except for Apple authorized retailers, sold counterfeit back covers for iPhones, counterfeit headphones, batteries and screens of varied price ranges and quality.

The counterfeit goods are collected from many sources, but mostly from China. Distributors then stamp their seal on the products and sell them as the genuine brand.

Cracking down on counterfeit dealers, Apple has designated authorized distributors and resellers on its official website. Consumers worldwide can search for genuine retailers in their country. 

Vietnam has three official distributors of Apple, namely, Vinaphone, Viettel and FPT Distribution.

Amongst these, only VinaPhone and Viettel are authorised to allocate the Apple iPhone series, i.e. iPhone 3G, iPhone 3GS and iPhone 4. 

Apart from distributors, Apple also has its own appointed resellers in Vietnam, divided into two groups, Premium Reseller (PR) and Authorised Reseller (AR).

PR's such as iCenter, FutureWorld-Talent Company can import Apple products directly, while AR's such as Huetronics Company, Nguyen Kim, Phong Vu Computer and Phuong Tung Informatic

Technology Company will get products from domestic distributors, but their shop designs will be similar to the PR shops.

The PR's and AR's can sell many kinds of Apple products like iPod, Macbook, iPad as well as accessories from Apple and other companies.