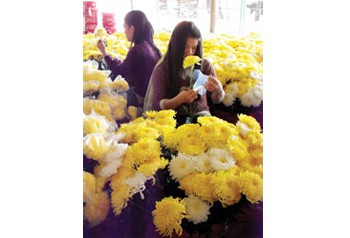 Maliss at a flowers shop

Huong Sac Da Lat Company has successfully reproduced a Malaysian strain of chrysanthemum using tissue culture and plans to sell 40,000 flowers during the year's first full-moon day, one of the most important in the Buddhist calendar, on Feb 9.
Maliss has many outstanding traits compared to strains of chrysanthemum. Its flower has a diameter of 10 to 15 centimeters and remains fresh for up to 20 days.
It comes in two colors -- white and yellow -- and is mainly consumed in Ho Chi Minh City, Ha Noi, Nha Trang, and Vung Tau.