Hair has grown from a coffee tree in Dak Lak Province's Krong Pak District.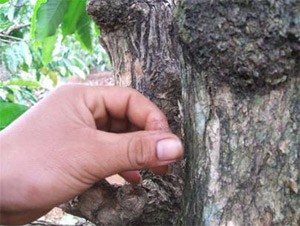 A coffee tree grows hair in Dak Lak Province
Ho Ngoc Quang, a coffee farmer's son, said he saw what resembles human hair on a tree's body five days ago and thought someone's hair had gotten stuck on it.
One Ms Phuong, who looked after the tree in the Hoa An commune last year, said she also saw this strange phenomenon but there was less hair than there is now.
She said the tree's hair was 25-30 centimeters long and gathered into a few buns.
A similar phenomenon happened before in Krong Buk District's Thong Nhat commune, but the hair grew from the foot of a coffee tree, not from its body as in the current case. And there was not so much of it.
Local farmers said trees get hair when they get mouldy.