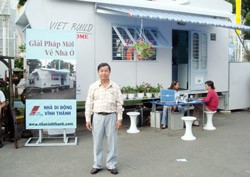 Architect Ho Van Tho in front of a mobile home designed and fabricated himself. (Photo: SGGP)

A mobile home designed and fabricated by architect Ho Van Tho won the "New construction idea" prize from the Ho Chi Minh City Architects Association last year.
Mr.Tho got the idea for the design when, in 2007, Hurricane Katrina swept over the US, destroying thousands of houses.
His daughter was studying in the US at that time and sought his permission to take part in relief efforts. From her stories, Mr.Tho knew that the government had immediately provided mobile homes to victims.
Being curious, he looked for information on the Internet and asked his daughter to send him pictures and information about the homes.
He realized there is much demand for this kind of house in his own country.
Mr.Tho grew up in the central province of Quang Tri which is hit by several storms every year. He had seen and understood the misery of homeless people.
In 1978 he went to Ho Chi Minh City to study and later set up his own business here, rebuilding old houses and selling them.
While others might build luxurious housing for the affluent, his concern is housing for the poor.
Pictures of poor people having to shelter in temporary tents after their houses were swept by floods and those of workers living in small, dingy apartments have created an urge in him to design the country's first mobile home.
A mobile home has an area of 13 to 19 square meters but has all the comforts of a regular house and can accommodate a six-member family. It can be built for as little VND50-90 million.
The price would fall much further when it is mass-produced, Mr.Tho said.