IBM Corporation signed a contract with FPT Company to implement the "Treasury and Budget Management Information System" (TABMIS) project of the Ministry of Finance on March 20, 2006 in Ha Noi.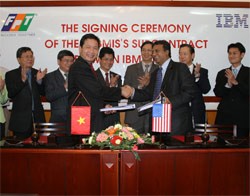 Mr. Truong Gia Binh, General Director of FPT Company shakes hand with Mr. Krishna Giri, representative of IBM Corporation in the signing ceremony (Photo: H.U.)
Accordingly, FPT will cooperate with IBM to implement the TABMIS project to reform the treasury and budget information management system of Viet Nam.

The project will converge currently separate information management systems into one.

TABMIS will be operated across the country from the central level to more than 600 districts of 64 provinces, cities at treasury and finance agencis, and planning and investment agencies.
The TABMIS project funded by the World Bank is worth US$ 44 million. It will provide the Ministry of Finance with a system backbone, strengthening the agency's reporting and accountability, budget preparation, and public debt management.
The project is implemented by using package protocol integrating with commercial solution software and a group of components. The TABMIS system will be operated throughout the country. The system will also link all units employing the State budget.