A recent survey of information sources and business transactions on 50 e-commerce websites in Viet Nam warned that about 98 percent broke rules set by the Ministry of Trade.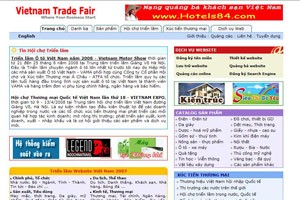 The E-commerce website Vietnam Trade Fair
The survey was carried out by the Department of E-Commerce and Information Technology (DEIT) under the Ministry of Trade and the Viet Nam E-Commerce Association
The websites chosen for the survey almost are the ones which were built since the very young age of the e-commerce industry in Viet Nam.
None of the websites fulfilled all requirements set by the association and the report also detailed some faults.
In particular, about 49 websites did not provide the name, address, telephone number, e-mail, and business license number of the owner enterprises. Twenty-four websites did not provide any information at all concerning transaction terms.
The report found out that while all websites required personal information, such as credit card number, only six websites used a network security application to keep the information safe.
Most of the websites did not offer visitors the option to secure transaction information. Six sites offered this option, but 44 did not.
Mr. Duong Hoang Minh, vice director of DEIT, affirmed that the Ministry of Trade would send official correspondence to warn the sites in the near future. If the websites do not fix the problems after this warning, the Ministry will impose a fine on them.