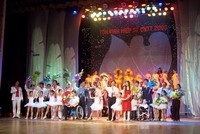 At the award-giving ceremony
Yesterday, eight new members were added to e-Chip magazine's Knights of IT for their outstanding contributions to the IT field in Viet Nam.
A blind student, Khuc Hai Van, received the award for his work done in cooperation with 2005 recipient, Pham Son Ha, in establishing Light Computer Center, which offers free computer training courses for the blind.
The next honoree, Dr. Phan Xuan Trung, created www.ykhoa.net, which provides the public with information about sex education, HIV/AIDS and health awareness. Already, his website has tracked nearly one million visits.
Nguyen Van Thanh was the third person honored for establishing www.maukhodong.net as an information sight on hemophilia. Since the 10,000 hemophiliacs in Viet Nam comprise such a small percentage of the population, they have seemingly been otherwise left behind. Thus, the website is invaluably useful for those affected citizens.
Fourth in line was Nguyen Minh Tao who was honored as the founder of two very popular websites (www.tintucquangnam.org and www.nguoixuquang.com/forum/index.php). The sites provide information about culture, history, geography, famous landscapes and general life in the Quang Nam Province.
Lecturer Tran Quang Nghia was next awarded for uploading his math lectures on e-Chip's website which caters to students across the nation.
Another lecturer, Do Duc Huyen, received the commendation as a pioneer in applying IT to the education field.
Ms.Vo Thi Dieu Hang, the only woman named this year, was recognized as the founder of two vast online libraries cataloguing Vietnamese natural science, society, culture and history (http://vietsciences.org and http://vietsciences.free.fr/).
The last award recipient was lecturer Vu Xuan Bang who created the XB/1890 Freeware, providing tools for improving teaching and studying function that have proven themselves incredibly useful.
Sixty IT Knights have been named by e-Chip Magazine since 2003.