Teetering on brink of energy exhaustion, people have to look for new sources of energy, and one of them is found in agro-forest waste.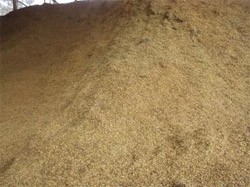 Agro-forest wastes such as rice husk ...
Besides getting energy, the use of this source also contributes to effective environmental protection.

Biomass residues from agro-forest production activities, such as rice husk, sawdust, coffee hull, corncob, sugarcane dregs, coconut fiber and rice straw, etc., is existing and increasing day by day with the growth of food consumption.

"Agricultural waste does not produce much more electricity than hydroelectricity or thermo-electricity plants, but it does not pollute the environment. In addition, it can provide on the spot electricity for the rural areas, especially remote regions" said Dr. Pham Van Lang, Director of the Viet Nam Institute of Agricultural Engineering and Post-Harvest Technology (VIAEP), the organization owning over the project.

In Vietnam there are approximately six million tons of rice husk, two million tons of sugarcane dregs, more than one million tons of coffee hull and tens million tons of sawdust, corncob and coconut fiber, etc. discharged from agro-forest products producing and processing units.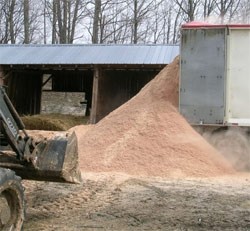 ... or sawdust can be used to generate energy.
Most of this waste is discharged to ponds, lakes, creeks and rivers, causing serious environmental pollution, only a small percentage is used as burning fuel, animal feed, and fertilizer in rural areas.
Therefore, the use of agro-forest waste to generate energy serving processing industry is necessary.
The VIAEP has successfully researched and effectively applied fluidized bed combustion (FBC) to burn agro-forest waste providing heat for drying and processing of rice, maize, coffee, wood/timber, fruits ad vegetables, and fluidized bed combustion co-generation of heat and power (FBC-CHP).

How to generate electricity from rice husk and sawdust?

In FBC, maximum temperature is approximately 800 degrees Celsius when ricehusk's moisture is less than 14 percent.

Actually, rice husk in Mekong Delta and coffee hull in South West highland are put into very large piles, thus they have very high moisture content.
Rice husk at moisture of 30 - 40 percent with mould can still be burnt in FBC, but temperature reaches only 730 degrees Celsius due to some energy is used for evaporating water from fuel, and there is much black smoke. Rice husk with moisture higher than 40 percent is hard to be burnt.
Below is a flow chart of technology for producing heat and power from rice husk. FBC - CHP is the wise way to get both heat and electricity.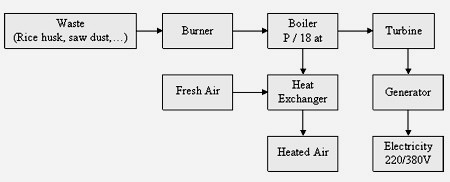 Flow chart technology of generating electricity and heat from rice husk (Photo: H.U.)
Primary steam is used to rotate a turbine for producing power, and secondary steam is used for supplying heat for other purposes. 
The VIAEP has co-operated with AusAID (Australia) to install one FBC - CHP in Long An Food Company with capacity of 50 kW and 2,500 kilograms steam per hour, which consumed 500 kilograms rice husk per hour.

Secondary steam flow at 4 is used to supply heat for an 8 ton-per-batch dryer.

Related link:
Viet Nam Institute of Agricultural Engineering and Post-Harvest Technology