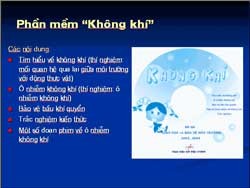 View of the program's interface
Five educational programs on how to protect the environment, geared toward high school students, have been produced by the International Training Institute for Material Science under the Ha Noi University of Technology.
A friendly interface helps the programs, contained in 5 CDs, provide users with access to a variety of topics including pure water, fresh air, greenery, noise pollution, waste and so on.
Teachers will find the five programs to be a useful teaching tool, while students can use them for enhancing out-of-class preparation.