Electricity Viet Nam Telecom (EVN Telecom) has invested US$200 million in the Singapore-based VSLN International's project, "Intra Asia".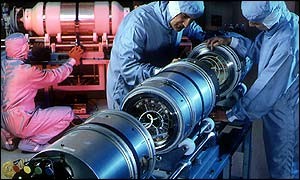 Producing underwater fiber-optic cable (Photo: BBC)
The project outlines the laying of 6,800 kilometers of underwater fiber-optic cable through Singapore, the Philippines, Hong Kong, Taiwan, Japan, China and Viet Nam.
Once in operation, the connection will join the existing fiber-optic cable system of VSLN International in Japan, linking to the US, and another system in Singapore, linking to Western Europe. Its initial transmission capacity will be 320 Gbps and then 5.6 Tbps after an upgrade.
The connection is scheduled to be completed by the first quarter of 2008.