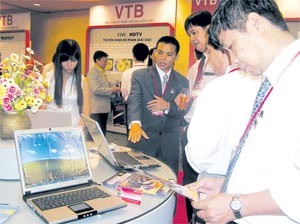 All models of Centrix laptop showcasing at the VTB's showroom.
Viettronics Tan Binh (VTB) has unveiled its four VTB Centrix laptop models: the ME 150, MP 173, MP 173M and MD 320. These models offer the ultimate blend of mobility, modern design and cutting-edge technologies.
Offering a sophisticated silver cover, amazingly light weight (2.6 kilograms) and powerful computing features, Centrix MP 173 is geared toward businessmen.
 
Besides the usual 802.11 b/g WiFi and Bluetooth, this model can easily connect to the internet anywhere. It's got the Intel Pentium M Processor 740 (2M Cache - 1.73Ghz - 533Mhz FSB), 512MB DDRII Memory, 60GB HDD, DVD Combo: DVD / CDRW, 14" Widescreen TFT LCD Display Monitor and a one-year warranty.
Centrix MP 173 also provides Power 4 Gear Technology allowing users to maximize battery life by quickly and automatically adjusting processing performance.
The VTB Centrix MP 173 costs US$1,059; the VTB Centrix ME 150 is US$670; and the VTB Centrix MP 173M is US$1,100.