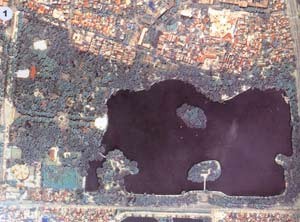 Satellite view of Ha Noi
The Space Technology Institute plans to build and launch a weather satellite by 2010.
Dr. Dang Vu Minh, the institute's chairman, said the satellite would be used to forecast the weather, track storms and monitor man-made and natural disasters.
"Just to give one example, having a satellite in space would easily enable us to verify the source of the current oil pollution along the coast," Dr. Minh said.
The Institute of Space Technology in Ha Noi was established by the Science and Technology Institute of Viet Nam on April 3.

Besides engaging in research and applying space technology, the institute will advise other government agencies and the private sector on the development of space technology applications and related legal issues.