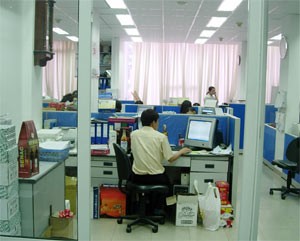 View of an e-commerce website's admin department (Photo: Hoang Uy)
IT security experts warned that more than eighty percent of government websites have recently become victims of computer hackers.
Bad Security
A student from the Ho Chi Minh City University of Economics says that he has broken into government's websites with ease. "Most of the sites' administrators largely neglect their duties" he added.
While searching for information on the Net, a lecturer in a HCMC university accidentally found a loophole allowing hackers to get into many government's websites. He then tried to report his findings to the websites' administrators but got no reply. Two years later, he noticed that the security vulnerability still existed.
He further points out that more than ten government websites can be penetrated with little effort.
Sources of the Problem
According to the director of a local software firm, most government websites are developed using foreign programming languages such as SQL Server, ASP.Net, PHP and My SQL. Some are even designed using open-source software like Mambo, Plone and Rainbow whose stability is questionable.
Part of the problem is that Viet Nam is lacking people with the necessary expertise in the area of IT security. In addition, most of the administrators of the websites can barely input data, and they have no idea about IT security issues.
Do Ngoc Duy Trac, an expert with the Viet Nam Computer Emergency Response Team, says: "Any website in the world can be attacked by hackers, so administrators ought to welcome reports of security vulnerabilities from outside. They also have to deal with the problems as quickly as possible. If the issues are too complicated, they ought to appeal for a network security centers' help. Also, a department should be established for receiving and dealing with reports of security vulnerabilities"