Manually controlled and automatic robots made by SPK Knight from the University of Technical Education Ho Chi Minh City won the Vietnam Robocon contest on May 17 and the team has qualified for the Asia- Pacific Robocon contest in Japan next August.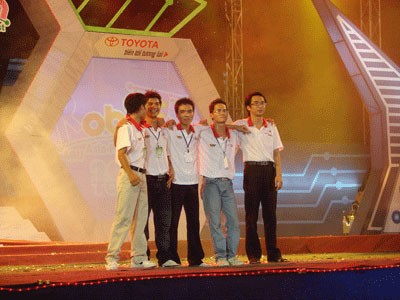 SPK Knight team becomes championship of the Vietnam Robocon 2009 (Photo: VNN)
Hong Ha CTM from the Military Technical Institute won the second prize after entering the final against SPK Knight, while BK-MT from the HCMC Polytechnic University, and Sun Ward from the University of Education, Hung Yen Province made up the remaining semifinal spots.
The winning robots' preeminent design and high speed quickly overcame their rival soon as the competition began.
Final results:
First prize: SPK Knight Team, University of Technical University Ho Chi Minh City

Second prize: Hong Ha CTM, Military Technical Institute

Third prize: BK-ATM, HCMC Polytechnic University

Technology prize: Hong Ha CMT, Military Technical Institute

Idea prize: ICE-TEA, Hung Yen University Technology Education

Best manually controlled robot: SQ01, College of Information Commanding Officer

Best programmed robot: BK-ATM, HCMC Polytechnic University

Best solution: SPK Knight

Robot with best structure: Team from Lac Hong University
Related Articles:
Students begin quest for Asia-Pacific robot contest
Central University Makes It as 2007 Robocon Champion