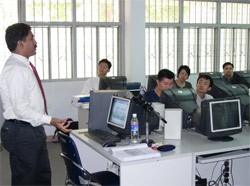 In a class at an IT training center.
Big investors will need 9,000 hardware specialists in the near future, said Mr. Nguyen Thien Nhan, Deputy Chairman of the Ho Chi Minh City People's Committee, at a recent meeting of electronic, computer manufacturers and training organizations.

It is not only a good opportunity but also a big challenge for universities and vocational schools in the city.
According to Mr. Nhan, businesses will have to spend a lot of time if they are to find the staff themselves, and Ho Chi Minh City will be hard to attract big international IT corporations if it fails to meet the personnel demand.
"Training organizations should define the scopes and structures of a type of jobs and hence the human resource that businesses require, what the gap in professional skill and the capability of supplying staff will be in the next three years; and how businesses manage experienced staffs as well as new graduates." added Mr. Nhan, "The city's government and businesses will provide financial assistance to training organizations. So they have to change their training methods from skill-based to need-based in order to satisfy demand."
There are about 50 universities and colleges in the city capable of IT training, making up nearly 50 percent of the entire number of establishments throughout the country with IT training capability, according to the Ho Chi Minh City Department of Post and Telecommunications (DPT), .
In late 2005, about 8,300 students graduated from IT universities, while demand from businesses was 1,100 only.
At the meeting, Mr. Tran Ngoc Cang, CEO of Renesas (a Japanese IT Corporation) in Viet Nam, also confirmed that most of new graduates did not meet the company's requirements.
He said that about 300 applications for job, out of 500, qualified for the interview at Renesas, and finally, only 30 candidates passed. "Most of them failed because of their poor English and IT skills. They specialize in no subjects when studying at universities." said Mr.Cang.
According to representatives of some universities, training quality of universities is not necessarily weak, but there are no guidelines for students to choose a career path to direct their study accordingly.
Students usually choose the subjects that help them get a job easily after graduatation. For example, more than 300 students enrolled in the Polytechnic University annually, but most of them take software courses.
"To improve the training efficiency, universities should be given opportunities to work with businesses, where the learners skills and knowledge can be best put into practice and training programs get to be tested and updated to respond to the market demand." added Mr. Nguyen Tan Phat, Rector of the Viet Nam National University, Ho Chi Minh City.
Under the instructions of Deputy Chairman Nguyen Thien Nhan, DPT and some universities in the city will cooperate with local businesses to set up a task-force group charged with preparation for IT human resource.
The Ho Chi Minh City People's Committee and this group are expected to conduct projects of building labs for universities and running short-term IT training to provide staff for big businesses in August.


At the meeting with training units in Ho Chi Minh City, Intel's representative said that in the next five years, Intel factories in Viet Nam will need 1,200 employees; Renasas needs 1,000 engineers including 500 with good level of English.