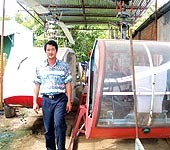 Tran Quoc Hai with his revamped metal bird
A 46-year-old self-taught inventor living in a quiet corner of Viet Nam has designed and built a helicopter for the cost of a locally made car and is now preparing his whirlybird for its maiden flight.
For years Tran Quoc Hai of Tay Ninh Province dreamed of building a chopper. Since his English was quite good, he spent hours every day searching the internet for information that might help him and absorbing what he found.
When a child, Quoc Hai's eyes would fill with passion as he watched the airplanes taking off behind his house.
Later on, away from his studies at the University of Physical Training and Sports, he would spend his free time scouring for information and visiting museums to study helicopter components.
After graduating, he became a teacher for five years then quit in 1996 to set up a factory making agricultural machines.
But his dream of building a helicopter was always foremost in his mind so one day he convinced his close friend Le Van Danh, who owned a real estate business, to sponsor him.
Quoc Hai's first helicopter took seven years to make and managed to rise two meters into the air on the first try. But when it landed, some local militiamen suddenly appeared and seized the handmade machine.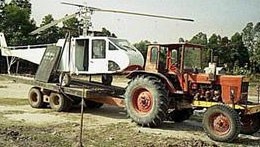 Version one – too heavy and thirsty
"Someone working in a nearby rubber tree plantation saw my helicopter and informed the local authorities. Luckily they gave it back to me 13 days later," recounts the inventor.
The story of Tran Quoc Hai's helicopter quickly spread nationwide. However, the 900-kilogram metal bird was too heavy and used way too much fuel.
With the help of information from his foreign friends and well-wishers, Quoc Hai has managed to bring the weight down to 680 kilograms. The new version measures 11 meters in length, 2.3 meters across and 3.5 meters high.
The engine uses 60 liters of gasoline in eight hours and can reach 150 kilometers per hour in flight, similar to a car in some ways.
Tran Quoc Hai is now waiting for the government's permission to test his helicopter in the air. If all goes well, he will gear the chopper toward agricultural work.
"I also hope that my invention will be useful for students of the University of Aviation," the rural inventor says with a touch of pride.