The presence of big hi-tech organizations like Intel and Nidec in Viet Nam has proven that the country is an attractive location for hi-tech investors from all over the world.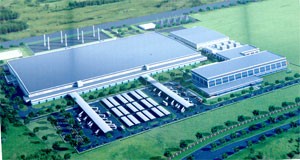 An artist's impression of Intel Products Plant in HCMC's Saigon Hi-Tech Park

Intel, the world's largest chipmaker, began construction on Wednesday of a US$1-billion chip assembly and testing plant in Ho Chi Minh City's Saigon Hi-Tech Park (SHTP).

Japanese computer accessories manufacturer Nidec also recently opened two electronic component factories in the SHTP to produce precision engineered items for export.

Four years ago, hardly anyone thought Viet Nam would even register on the world's hi-tech map, believing that the country did not meet the demands of the industry regarding infrastructure, human resources and support services.

However, the presence of Intel and Nidec has served to make those skeptics think again when considering where to open new facilities.

According to the World Bank's 2006 report, Intel's global suppliers of microelectronics and transistors will follow the group into countries where they open new facilities. In the long run, this will have the effect of creating a chain of transistor suppliers in Viet Nam.

As well, big investors like Intel or Nidec, with strict requirements about business environments, have accelerated improvements to the legal system and management capacity of the Vietnamese government in such fields as tax, customs and banking.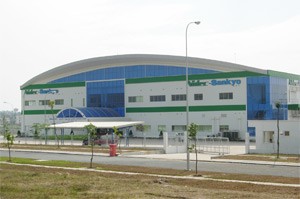 Nidec's factory in HCMC's Saigon Hi-Tech Park (Photo: Hoang Uy)
The new wave of investment is also creating a strong demand for skilled laborers. When Nidec's 10 factories come into operation, at least 30,000 laborers will be needed.
Nidec has provided more jobs with high salaries and also an opportunity for Vietnamese workers to receive hi-tech education and training.

Intel is working closely with Vietnamese universities of technology to improve the quality of instruction there while at the same time improving the student's employment prospects after graduating.

The SHTP is on the way to becoming a science and technology center in the southern hub. As one SHTP leader said: "Hi-tech investment will create surplus value for the economy and develop the inner strength of Vietnamese human resources".
Development strategies of Saigon Hi-Tech Park until 2010
* Attracting hi-tech organizations working in the fields of microelectronics, transistors and information technology to create a chain of suppliers in SHTP.
* Developing a system of hi-tech services, including call centers, data centers, software development and web applications, and business off-shoring.
After 3 years' operation, the SHTP's Research and Development Center has made some achievements in nano technology, which were patented in the US.