A helicopter made by self-taught inventor Tran Quoc Hai and his close friend Le Van Danh cannot fly, said inspectors from the Ministry of Defense after examining the whirly bird on April 4.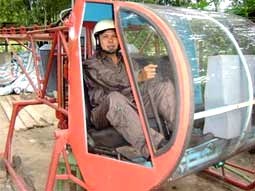 Le Van Danh in the cockpit of the helicopter
The inspectors concluded that the helicopter did not meet safety requirements and its engine was not strong enough to get it off the ground.
"We have a lot of respect for the efforts of Tran Quoc Hai and Le Van Danh, but it is not enough. Making a helicopter is very difficult and if the helicopter runs into problems during a flight test, it will not only be a hazard for the pilot but also for people and private property on the ground" said an expert.