Intel Viet Nam and the Central Committee for Science and Education (CCSE) of the Vietnamese Communist Party signed a memorandum of understanding (MoU) Thursday in Ha Noi to support CCSE's computing infrastructure in Party organizations.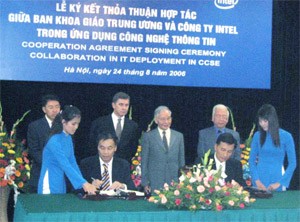 At the signinging ceremony ( Photo:M.Quang)
The agreement is valid for 5 years from Thursday as part of the government's plan to accelerate Viet Nam's IT development and e-government initiative outlined in the National Plan for Open Source Software Development and Application.

Under the terms of the MoU, Intel will provide comprehensive assistance to the CCSE in setting up a laboratory for testing and developing open source solutions, "OpenLab," that runs on Intel's platform.

OpenLab will act as the central entry point for the CCSE Open Source Software sub-project's implementation that will manage 27,000 Intel-based personal computers for the next three years.
Support from Intel will also include providing technical surveys, equipment setup, software tool training, function testing, and case study wrap-ups.
"Intel is committed to working with global and local industry leaders to provide integrated, tuned and tested e-government solutions." said Than Trong Phuc, Intel's country manager in Viet Nam. "We are committed to work with CCSE to build a robust open source computing solution that will increase office automation's efficiency and transactional client activities across the Party."
According to CCSE, open source applications will bring about basic benefits such as security, reliability, effectiveness of staff, localization capability, comprehensive IT development, and the realization of the intellectual property rights.