Capability Maturity Model (CMM) and Capability Maturity Model Integration (CMMI) are considered as one of very important benchmarks to show software companies' growth. However, to sustain these models' growth level, companies will have to spend a sizable amount of money and at least two years. 

An advantage tool for competition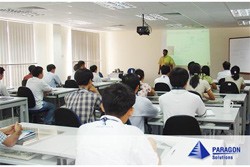 Not only concentrate on working, PSV associates consider sharing, learning and improving knowledge important as well.
The Software Engineering Institute (SEI) together with the Carnegie Mellon University of the US developed the Capability Maturity Model (CMM) to instruct and provide practical experience on development and enhancement of software production process. 
This model has five levels. Achievements of level 4 and 5 are considered as a passport for enterprises to negotiate deals or contracts with big software companies in the world.  
However, the SEI stopped updating materials and training on CMM in late 2003. They released a new evaluation method according to the Capability Maturity Model Integration (CMMI) to replace CMM. Former CMM qualified companies are still recognized. 
CMMI is not only for "pure" software like CMM but it is integrated for both software and hardware technology. CMMI can be applied to all software using machines including tanks and airplanes, etc. 
The question put forward by enterprises is that since foreign software companies require Vietnamese companies to have CMMI 4 and 5 as a certification for their software production ability, is CMMI a "passport" for Vietnamese software exporters?  
It can be said that CMMI is a useful tool for enterprises to compete with domestic and foreign rivals, answered Ngo Duc Chi, Director of Global Cybersoft Viet Nam Company. The company spent dozens of thousands of dollars to improve its technology from ISO to CMMI.  
Agreed with Mr. Chi, the Vice General Director of Paragon Solutions Viet Nam Company (PSV), the first company to have achieved the optimal level of CMMI model in Viet Nam, said that in a competitive situation, companies have to innovate their working process to make high quality products. When an enterprise carries out CMMI, it has not only to spend a lot of money but also lose human resources, customers and productivities decrease considerably (about 15%-20%) due to changes caused by the new process application. PSV has spent over US$100,000 to reach CMMI 5.  
Therefore, enterprises must have a long-term investment and a strategic vision to be able to achieve this model, and not just for achievement's sake. 
CMMI application for growth
 
Not many companies meet CMMI standards in Viet Nam, and the ones which do are often big ones. So, the question is if it's worth for medium and small companies to strive for CMMI certification. From practical experience, they do not need to be CMMI certified. But if they want to grow, they just need to apply CMMI standards to their processes, said Nguyen Thanh Long, Vice Director of Ho Chi Minh City-based FPT Software Company.  
Also, there is an opinion that medium and small companies should take part in CMMI model in the form of improving each process step by step. If they have potential, then they can move to apply CMMI model. This form is appropriate for medium and small companies in Viet Nam due to its low cost.  
Experienced enterprises said CMMI is a "choice" not a "raison d'être" for all software companies. Common knowledge should be formed in the community for big companies to share their experience with small ones and help them enhance their knowledge in software production process. The more companies meet CMMI standards in Viet Nam, the more advantages Viet Nam's software markets have.  
Information technology experts affirmed that Vietnamese IT engineers are capable of being the SEI's partners in establishment of a CMMI evaluation center in Viet Nam. If the center is established, it could lead to a significant reduction in CMMI expenses. For this to happen, relevant authorities will have to play an important role in the whole process.
Capability Maturity Model (CMM)

The Capability Maturity Model is an organizational model that describes 5 evolutionary stages (levels) in which an organization manages its processes. The thought behind the CMM, originally developed for software development, is that an organization should be able to absorb and carry its software applications. The CMM covers practices for planning, engineering, and managing software development and maintenance. When followed, these key practices improve the ability of organizations to meet goals for cost, schedule, functionality, and product quality. The model also provides specific steps and activities to get from one level to the next.

Five evolutionary stages in managing organizational processes :

1. Initial (processes are ad-hoc, chaotic, or actually few processes are defined)
2. Repeatable (basic processes are established and there is a level of discipline to stick to these processes)
3. Defined (all processes are defined, documented, standardized and integrated into each other)
4. Managed (processes are measured by collecting detailed data on the processes and their quality)
5. Optimizing (continuous process improvement is adopted and in place by quantitative feedback and from piloting new ideas and technologies).

The CMM is useful no only for software development, but also for describing evolutionary levels of organizations in general and in order to describe the level of Value Based Management that an organization has realized or wants to aim for.

Source: Value Based Management.net, Six Sigma Tutorial


Capability Maturity Model Integrated (CMMI)

CMMI contains an enormous amount of information and guidance to help organizations improve their processes. The CMMI model firstly helps you evaluate the content of your processes - information essential to technical, support, and managerial activities. Secondly, the CMMI model helps improve process performance - information used to increase the capability of your organization's activities.

The CMMI has been shown to reduce risks associated with development projects, increase efficiency and improve the overall quality of products and deliverables.

Source: Monash IT