At a product launch ceremony yesterday in Ha Noi, Microsoft confirmed that the Windows Vista operating system will be available in a Vietnamese version. The special version, to be called Windows Vista Starter Edition, is scheduled to be on sale by May of this year.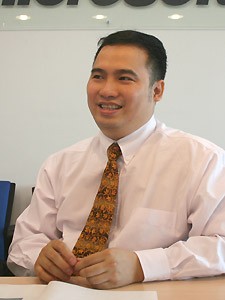 Microsoft's Marketing Manager Hoang Anh Tuan
"The Windows Vista Starter Edition is expected to be on store shelves within three months. It will also be sold to original equipment manufacturers (OEM) for installation in their PCs. The Starter Edition will only cost as much as a superstar concert ticket" said Hoang Anh Tuan, Microsoft's Marketing Manager in Viet Nam.
According to Mr. Tuan, the Windows Vista Starter Edition will be written in two languages – English and Vietnamese. While the software will only require a 32-bit CPU (Center Processing Unit), it is intended for PCs with lower processing capabilities, so the number of programs that can be running simultaneously will be limited to three.
In addition, the new edition will not include graphics-intensive programs like 3D Windows Aero, Windows Media Center and Windows Bitlocker. 
Microsoft's Director though, tried to ease any worries that potential users might have about the system's hardware requirements and price. "Research on local markets showed that Windows Vista is compatible with computers currently being made. Some people may attempt to use a pirated version, but they run the risk of crashing their computer. They also will not have access to update patches. We suggest that the user buy the software pre-installed in a new computer because prices for OEMs will be very low" he said.
Local users though, seem to be giving the new software a cool reception, despite a flashy interface and dozens of new features. According to an online survey carried out in December last year, more than 4,000 people out of 7,000 felt that upgrading to Vista was unnecessary, 1,700 will try it and more than 1,000 were sure they would adopt it.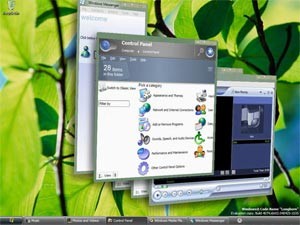 Windows Vista offers users a beautiful new graphical interface Aero (Photo: futura-sciences.com)
Two months after using a trial version, Tran Quang Minh, an IT company employee, was very impressed with the new graphical interface "Aero Glass" and the software's media processing abilities. "Flip3D is very cool. It's a new program-switching application that shows live previews of software applications, instead of the usual task-bar icons" he said.
Nevertheless, he decided not to upgrade to the official Windows Vista edition because "it requires a very beefy system". "I have a powerful PC system with a Pentium IV 3GHz Processor, 1 GB RAM and a 128MB graphics card. But Vista still ran very slowly on my computer. For that reason I think very few consumers will choose to upgrade to Vista until they have a more powerful computer", Minh said.