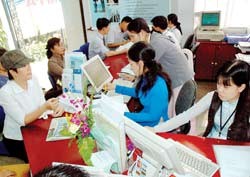 Transactions at a State Bank branch.
The State Bank of Viet Nam will apply the Cisco Unified Communications System and the Cisco Self-Defending Network System to improve the IT infrastructure of its banking system.
A much needed boost to the bank's fledgling IT infrastructure, the Unified Communications System software will help improve performance
Being developed first in the centers and branches of State Bank of Vietnam, the Cisco United Communications System will help improve work prformance with state-of-art appliances like video phones, video conferencing, IP phones, voice mail and others with integrated user-friendly interface.
The Self-Defending Network System detects and prevents hacking threats via the network internally anf externally.
In addition, the State Bank of Viet Nam will also set up a Cisco Data Center to upgrade the recovery capability of the new IT infrastructure in case of break-down.