US Professor of physics James Cronin, who won the 1980 Nobel Prize for his discovery of violations of fundamental symmetry principles in the decay of neutral K-mesons, delivered a lecture Friday at the National University in Ha Noi on "Matter and anti-matter in the universe," while encouraging Vietnam to better its science education and create more incentives for scientists.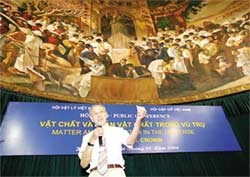 James Cronin delivers his speech at the National Unversity
The Nobel physics laureate said Viet Nam has opportunities to develop in every aspect and Viet Nam now holds a respectable international position thanks to the country's recent scientific progress.
The Nobel winner praised Vietnamese scientific industriousness and skill and highlighted the youth's interest in science.
However, he also emphasized that Viet Nam needs to provide more profound scientific education and create more favorable opportunities for scientists while developing appropriate policies on working conditions and salaries in order to attract talented people and avoid brain drain, when excellent domestic scientists leave for foreign countries.