NVN team from Lac Hong University has won the 2014 Robocon robotics contest by beating many strong competitors from universities across the country.
In the final in Nha Trang on May 11 its SHABAASH robot was superior to those made by seven other university teams, including one more from Lac Hong.
With the win, NVN qualified for the Robocon Asia – Pacific competition that will be held in India in August.
It is Lac Hong University's fifth win in the 14-year-old competition.
This year's event was held at the Nha Trang City Sports Training and Competition Center.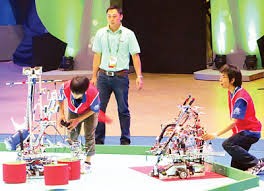 The teams take part in the finals of Robocon robotics contest (Photo: SGGP)