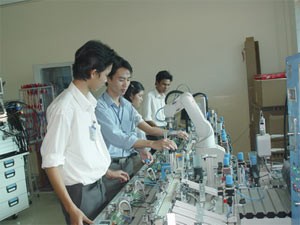 Students study mechatronics at the University of Technical Education in HCMC.
"Viet Nam can produce mechatronic products, but it critically lacks human resources in this field," pointed out Dr. Nguyen Khoa Son, deputy chairman of the Vietnamese Academy of Science and Technology, at the 3rd national meeting on mechatronics on October 12.
Dr. Nguyen estimated that Viet Nam needs about 200 mechatronic engineers and 1,200 mechatronics workers every year.
One of the problems with expanding the workforce lies in the fact that there are now only a few universities in the country offering mechatronics courses.
At the first national meeting on mechatronics in 2002, the Campaign for Mechatronics was founded by 35 members including scientists, lecturers and businessmen from around the country.
These founding members presently await the government's approval to establish the Viet Nam Association of Mechatronics. The association will provide training courses and help scientists perform necessary mechatronic research. They are also linked to the launch of Mechatronics Magazine which is scheduled to debut by 2007.
"Local branches of the Vietnamese government, as well as the local science community, consider mechatronics to be one of the leading fields geared toward the expanding Vietnamese economy and society" said former deputy Prime Minister Pham Gia Khiem at the 8th international meeting on mechatronics in 2004.
It is anticipated that the demand for human resources in this field will double in 2008 as the mechatronics industry booms in Viet Nam.
Mechatronics is the synergistic combination of mechanical engineering ("mecha" for mechanisms), electronic engineering ("tronics" for electronics), and software engineering.

The purpose of this interdisciplinary engineering field is the study of automata from an engineering perspective and serves the purposes of controlling advanced hybrid-systems, such as production systems, synergy-drives, planetary-rovers, automotive subsystems (i.e. anti-block system, spin-assist) and every day equipment (i.e. the autofocus cameras, video, hard disks, cd-players, washing machines, lego-matics).

Mechatronics is centred around mechanics, electronics and computing which, combined, make possible a new generation of systems which become more reliable, economical, versatile and simple.

The word "mechatronics" was first coined by Mr. Tetsuro Moria, a senior engineer of a Japanese company, Yaskawa, in 1969. Mechatronics may alternatively be referred to as "electromechanical systems".

(Source: dictionary.laborlawtalk.com)