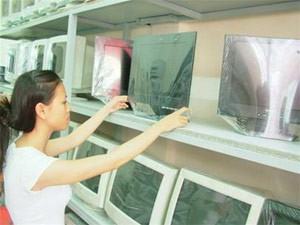 Shopping for a monitor in Ho Chi Minh City.
While membership of the World Trade Organization has made next to no impact on computer production in Viet Nam, local computer prices are sure to rise as the buyers will be paying for licensed software, according to Intel and Vietnamese computer makers.
Than Trong Phuc, CEO of Intel Vietnam, told reporters that the computer parts available here were mostly imported from abroad, so their final retail price was heavily influenced by the foreign suppliers.
"Intel has no plans to cut prices. But new technologies devalue the old ones. And we usually have new technologies every 12 to 18 months," he said.
The import tariffs three to four years ago were the same as the rates (zero percent for CPUs and five percent for mainboards) set for the next five years in line with WTO requirements, so computer prices will not fall, a local computer maker told the press briefing.
In addition, buyers will have to pay more for licensed software, notably Microsoft Windows and Office, whose price of more than US$200 is even higher than some computers.
"Local computer makers have been barely making a profit recently. And after the Law on Intellectual Property comes into effect on January 1, 2007, they will have to add the cost of licensed software to their prices," said Pham Thien Nghe, director of the Khai Tri Company.
Le Thanh Hung from T&H suggested that foreign computer parts suppliers might lower their prices if the orders were big enough, so the manufacturers should get together and pool their orders to achieve this end.
Ultimately, said Hoang Le Minh, deputy director of the Ho Chi Minh City Department of Post and Telematics, licensed software will force up the prices of Vietnamese-made computers, but the local market should have no trouble absorbing the increase.